Our company reserves hotels in Minsk and other cities of Belarus at the favorable prices, also we offer flexible system of discounts. Choose hotel in which you would like to stay, and call us by telephone: +375 (17) 220-26-33, +375 (44) 568-55-55 or send a form request to our e-mail: info@belarustut.by
«Marriott Hotel Minsk» 5*
The new Minsk Marriott Hotel situated close to the city center, steps away from both the main exhibition center and exciting Minsk Arena. This beautifully appointed hotel rooms and suites were created with your comfort in mind; many offer private balconies with river views, and all boast free Wi-Fi and luxurious bedding.
217 comfortable rooms;

Spa-zone;

24-hour room service;

Restaurant «Fornello»;

Barrel bar.
«Doubletree By Hilton Minsk» 5*
Hotel «DoubleTree by Hilton Minsk» situated in the historical centre of Minsk next to historical centre in 5 minutes walking from the metro station "Nemiga". There are many facilities on the hotel territory:
193 comfortable rooms;

Business-centre;

Secured parking;

Conference hall;

Fitness center;

Cafe, restaurant;

Free Wi-Fi.
«Crowne Plaza Minsk» 5*
This upscale 5 star hotel located in the center of Minsk. Each of our 151 guest rooms combines modern and classic elegance and are full of comfort. Crowne Plaza Hotels participate in the IHG® Rewards Club program, so you can earn points just for being our guest. You can use your points for Reward Nights – free nights at any hotels within the IHG family of brands! Learn more about the program and join IHG® Rewards Club  now. It has all necessary facilities:
Well-designed, cozy rooms;

Business facilities;

Conference halls;

Restaurants "Empire" and "Dolce Vita" with exquisite cuisine, Star Cafe;

Fitness center with swimming pool;

Night club "Next" and casino.
«President Hotel» 5*
The President Hotel is leading Belarusian business-hotel located in the historical part of Belarusian capital. The level of service as for Vip customers, where the possibility of carrying out large-scale business events for up to 600 people. It offers:
Congress-Hall;

Negotiation rooms;

Comfortable round hall;

Restaurants in the President building;

Fitness center;

Spa center.
«Europe hotel» 5*
Historical and exclusive five-stars hotel in modernist style of the 20th century. Elegant luxury of interiors for every taste, modern technologies of rooms, high-quality service. Underground parking. Magnificent and spacious hotel where it is possible to carry out:
Week-end;

Business meeting;

Wedding;

Conferences;

Presentation;

Dinner in a restaurant.
«Victoria Hotel» 4*
The hotel is situated on one of the main streets of Minsk — Pobediteley Avenue, that allows guests to reach easily both historic centers of the city, and the multifunctional cultural-sporting complex "Minsk-Arena". "Victoria Hotel" is combined with the multipurpose business center which offers: 
The congress hall on 300 people with the full technical equipment;

A banquet room for business meetings;

Transformed conference rooms with full sound insulation to 70 and 40 places;

Multimedia projectors and screens;

Sound-amplifying system;

Secured parking;

Wi-Fi.
«

Hotel

Minsk» 4*
The first class four stars hotel in Belarus. A convenient location, within walking distance from sights: underground city, Red church, railway station, ancient city places and Nezavisimosti Avenue. The hotel offers restaurants for breakfast, lunch and dinner, business lunches. 24 hours lobby bar. There is  comfortable working zone in the apartments. Rooms are on a non-smoking floor. The hotel will help to organize and offer to businessmen the following facilities: 
Conference rooms;

Restaurant;

Conference hall;

Hire of office equipment and conference systems.
«Renaissance Minsk Hotel» 4*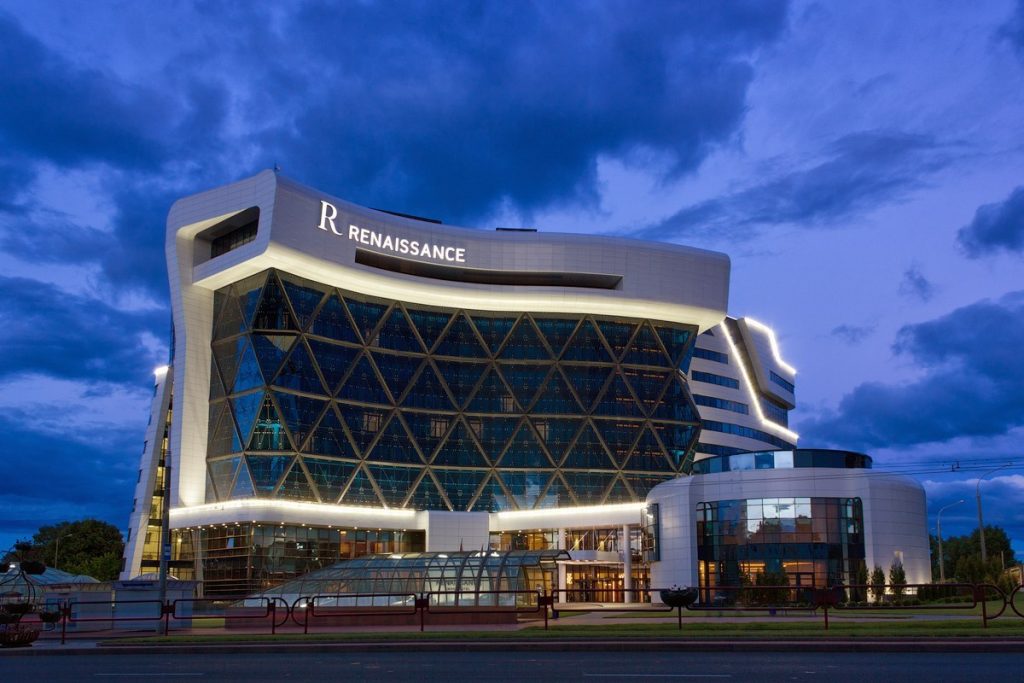 "The Renaissance Minsk hotel " offers to their guests 267 comfortable rooms, including 30 apartments of luxury range. Many guests will enjoy the views of the capital from the hotel. For business travelers "The Renaissance Minsk hotel" offers perfectly equipped working zone in the rooms, free wireless Wi-Fi, a safe, a free set of tea and coffee. There are rooms for physically disabled people in the hotel. To services of guests: 
Conference rooms;

Sauna;

Fitness center;

Swimming Pool;

Wellness  SPA center;

Gym;

Laundry, dry-cleaner; 

Hire of office equipment and conference systems.
«BonHotel» 3*
«BonHotel» is a modern, comfortable European style hotel, located on one of the Central streets of Minsk near the "Pushkinskaya" underground station. The close proximity to the historic center, the Exhibition Centre, the business centers of the capital make it convenient and attractive to visitors. Number of rooms: 125. To services of guests:
A transfer, rent a car;

Secure underground parking (on request, if place are available);

Rent of rooms in the business center of hotel complex;

Wi-Fi.
«Belarus Hotel» 3*
Оne of the most recognizable architectural monuments of Minsk. Convenient location in the center of Minsk, the harmony of style and comfort, a wide range of services, the ability to accept and accommodate a large number of guests make Hotel "Belarus" a popular place of temporary residence for both business and leisure travelers alike. Hotel "Belarus" offers accommodation in 484 rooms of different categories, from standard rooms to suites and apartments. To services of each guest: 
Parking

Restaurants, shop, pharmacy

Currency exchange

Conference Hall

Services for rest: mini aqua park, gym, etc.
Hotel complex «Yubileyny» 3*
Hotel Complex "Yubileiny" is located in the center of Minsk. There is a splendid view of the historical center of the city – the Trinity Suburb, Stella "Minsk – Hero City" and the embankment of the river "Svisloch". Availability of transportation arteria, convenience of driving in is the advantage of the hotel as compared to other hotels of the city. There is a supermarket, a cinema, the Palace of Sports, boutiques, mobile communications center, etc. in immediate proximity to the hotel. The hotel offers 239 rooms.
To services of guests:
Services of a laundry and dry-cleaner, hairdressing salon;

Currency exchange and ATM;

Secure parking;

Casino, bowling;

Wi-Fi.
«Monastyrsky Hotel» 3*
Rooms in  'Monastyrsky' hotel are former monastic cells, and now they are  modern rooms. The interior, designed as an antique, wooden furniture is natural. The unique location of the hotel makes you stay in such historic place and enjoy your peace of mind. There are 48 rooms of different categories. For all guests are:
Underground parking;

Currency exchange;

Restaurant, sauna, banquet room, pool, billiards;

Wi-Fi.
«Planeta Hotel» 3*
In many cozy hotel rooms of different categories from business class to V.I.P. apartments. The hotel 480 air-conditioned rooms. High security, video surveillance system works. It offers:
Bars and restaurant, pool bar;

Servicing of conferences and meetings;

Beauty salon, shop, business center;

Parking;

Currency exchange;

Wi-Fi.
For all questions, please call:
Tel .: +375 (17) 220 26 33, +375 (44) 568 55 55 or write us at
e-mail: info@belarustut.by